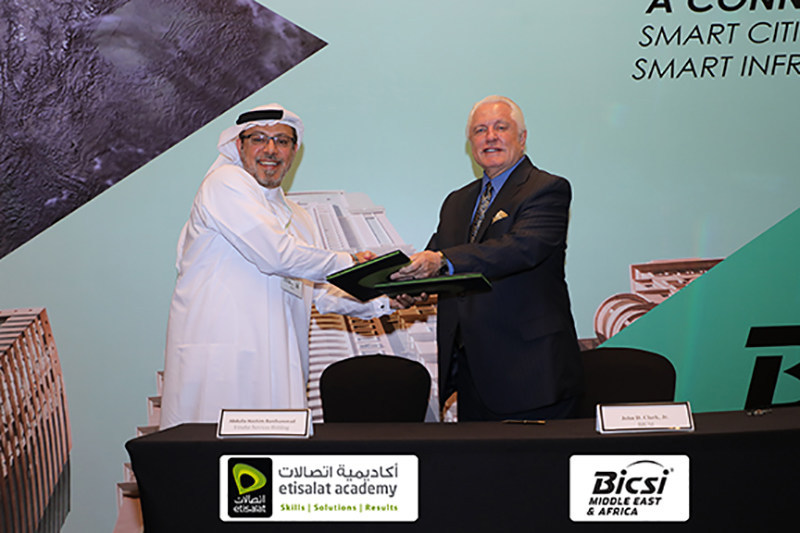 Shown completing the signing of the Etisalat Academy - BICSI ADTP agreement is Abdulla Hashim Banihammad, CEO, Etisalat Services Holding, and John D. Clark, Jr. Executive Director and CEO, BICSI.
DUBAI, United Arab Emirates, April 24, 2018 -- BICSI, the global association leading the advancement of the information and communications technology (ICT) community, is pleased to announce that Dubai's Etisalat Academy has established itself as an Authorized Design Training Provider (ADTP). This accolade allows Etisalat Academy to deliver BICSI's globally-recognized ICT design courses as part of their educational offerings, marking an industry milestone in the advancement of ICT training and education made available around the world.
Etisalat Academy is the largest single-source business and telecom training solutions provider in the Middle East. They provide training consultancy and human capital development services to telecoms, government agencies, oil and gas companies, financial institutions and organizations across all industries and business sectors. Etisalat Academy currently offers training and development programs ranging from cutting-edge technology courses to career-changing leadership master classes, strategy workshops and business management seminars.
Becoming a BICSI ADTP gives Etisalat Academy an opportunity to expand their current slate of courses to include BICSI's globally-recognized suite of ICT design training programs. As an ADTP, Etisalat Academy will utilize the same standards- and best practice-based curriculum, classroom equipment and materials offered in a BICSI-conducted class.
"Working with Etisalat Academy to provide BICSI training in the proper methods of design, integration and implementation of ICT systems and infrastructure is an ideal and exciting collaboration," said BICSI President Jeffrey Beavers, RCDD, OSP, CFHP. "As a global organization whose core focuses on education and training, BICSI is thrilled to be working with a like-minded training facility like Etisalat Academy to offer our curriculum. Etisalat Academy has been a long-time supporter of BICSI training, and as an ADTP, we will continue to work together to advance the ICT community in the Middle East and AfricaDistrict."
Dr. Ali Al-Qayedi, General Manager, Etisalat Academy, said: "As the largest single-source business and telecom training solutions provider in the Middle East, Etisalat Academy is committed to high quality learning and development experience. This collaboration comes as part of Etisalat Academy's long-term plans to establish strategic alliances with reputable global associations and certification bodies. Becoming a BICSI ADTP will enhance Etisalat Academy offerings for ICT professionals within the UAE and the region."
Etisalat Academy will begin offering BICSI courses soon. More information about Etisalat Academy can be found at www.ea.ae. Visit www.bicsi.org/adtp to learn more about the BICSI ADTP program.
About BICSI
BICSI is a professional association supporting the advancement of the information and communications technology (ICT) community. ICT covers the spectrum of voice, data, electronic safety & security, extra low voltage, project management and audio & video technologies. It encompasses the design, integration and installation of pathways, spaces, optical fiber- and copper-based distribution systems, wireless-based systems and infrastructure that supports the transportation of information and associated signaling between and among communications and information gathering devices.
BICSI provides information, education and knowledge assessment for individuals and companies in the ITS industry. We serve more than 23,000 ICT professionals, including designers, installers and technicians. These individuals provide the fundamental infrastructure for telecommunications, audio/video, life safety and automation systems. Through courses, conferences, publications and professional registration programs, BICSI staff and volunteers assist ICT professionals in delivering critical products and services and offer opportunities for continual improvement and enhanced professional stature. Headquartered in Tampa, Florida, USA, BICSI membership spans nearly 100 countries.